On Tuesday, 23 February, the UN Security Council held a debate on the topic of climate security. By organising the debate, that was convened by UNSC chair United Kingdom, a signal was given that despite reluctancy by some permanent members of the UNSC, several others are determined to keep this issue on the UNSC agenda. The following overview highlights some of the key messages the members conveyed in the debate.
The majority of member states shared supporting views on advancing the UNSC response to the security risks of climate change. For instance, several states indicated the urgent need to appoint a Climate Envoy and to consolidate research on climate-security nexus. Countries like Niger, Tunisia and Small Island Development States highlighted the devastating impact of climate change on their social and economic stability since the climate-security threat is already a reality today.
Opening the meeting, celebrated British environmentalist and broadcaster, Sir David Attenborough, warned of the dangers of inaction, noting that there is "no going back" to the "secure and stable climatic period that gave birth to our civilisations". A plea to act with urgency was vital to "help those in immediate danger" and reach a "new stable state" (Full speech here).
A key proposal that many countries seemed to tacitly support was the creation of enhanced climate risk assessments. UN Secretary-General Antonio Guterres discussed the importance of scaling up "early warning systems and early action on climate-related crises" to better prepare communities for more volatile climatic shocks. Kenyan President Uhuru Kenyatta echoed these comments and pressed on the importance of institutionalising risk assessments at all levels of governance and linking them to the current toolkits set out by the UNFCC and Paris Agreement.
"The science is screaming at us", John Kerry, United States Special Envoy on Climate.
Of particular interest were the comments made by United States Special Envoy on Climate, John Kerry. The US, struck a more urgent tone in line with new President Biden's desire to place climate at the top of his government's agenda. Kerry pointed out that "the science is screaming at us" and that climate-considerations have to be mainstreamed at all levels of government; Kerry also likened global inaction to a mutual "suicide pact" and urged the Council to place climate security at the centre of its agenda.
Representing the Small Island Development States (SIDS), Prime Minister of St Vincent & the Grenadines, Ralph Gonsalves, discussed the disproportionate impact of climate change on SIDS. Rising sea levels, battered ecosystems and increasingly violent weather patterns represent a greater existential threat than conventional risks. Additionally, given the nature of SIDS, it is "common-place for a year's GDP to be washed away overnight".  The PM called for more to be done financially by developed states (read the latest PSI report on climate security and SIDS, here). This call was echoed by Norwegian Prime Minister Erna Solberg and Irish Foreign Minister Simon Coveney, who proposed a reform of climate financing to ensure that more than 70% of funding reaches states most susceptible, up from around 10% currently.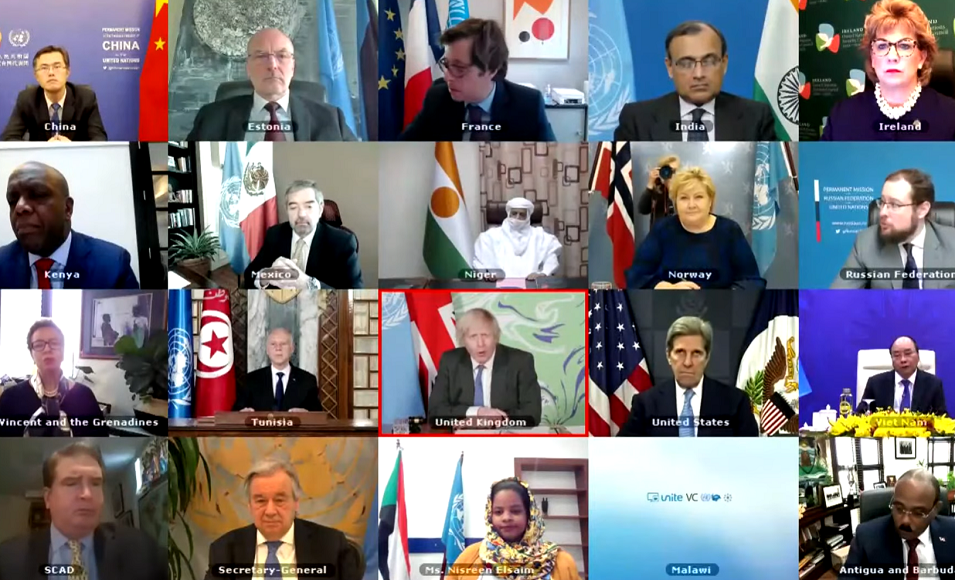 A reform of climate financing is needed to ensure that more than 70% of funding reaches states most susceptible, up from around 10% currently. Simon Coveney, Irish Foreign Minister.
British Prime Minister Boris Johnson, presiding over the meeting, noted the role of climate change in driving insecurity; "communities uprooted by extreme weather and hunger" push many vulnerable people into the hands of terror organisations. French President Emmanuel Macron supported this view, noting that issues such as desertification, unstable farming and water scarcity are successful "breeding grounds" for terror organisations like Boko Haram to recruit.
Germany proposed appointing a Special Envoy to focus attention on climate risks, as well as annualised reporting on climate security by the Sec-Gen. himself. Heiko Maas, German Foreign Minister
Britain and France have also urged greater institutionalism by the UNSC of climate security within its agenda. Johnson pointed out that if the same risks were triggered by a despot or civil war that "no one would question the duty and responsibility of this Council to act". Representing the 'Group of Friends on Climate & Security', German Foreign Minister Heiko Maas proposed a series of reforms to the UNSC's approach. Among these was the appointment of a Special Envoy to focus attention on climate risks, as well as annualised reporting on climate security by the UN Secretary-General. Additionally, "climate-sensitive peace-building" and mainstreaming climate considerations into current and future UN operations was vital to guarantee a more robust response.
However, whilst there was broad support in enhancing the UNSC's role, there was pushback from a few member states. In particular, Russian Permanent Representative to the UN, Vassily Nebenzya, argued that not all conflicts deteriorated as a result of climatic factors. Furthermore, he proposed that it is better to leave dealing with the impact of climate change to specialized agencies and actors, which keeps in line with Russia's historic position on the matter.
Russia, China and India remain sceptical regarding the impact of climate security and the need for the issue to be dealt at the Council level, albeit with varying degrees
While recognising the varying impacts on climate change, China and India remain on the borderline when it comes to acknowledging a direct link to instability induced by climate change. For instance, Indian Minister of Environment, Prakash Javadker expressed uncertainty regarding climate change's role in worsening security situations whilst warning against the creation of parallel tracks that deviate from combatting climate change at its root; for a detailed look into India's position on climate security, click here. 
China's climate envoy, Xie Zhenua, recognised the role of climate in destabilizing situations but agreed with Russia that specialized actors and the UN General Assembly were the correct venues to tackle the issue.
Despite this, there was a broad consensus over the salience of climate security as a key issue that the UNSC needs to place front and centre. In particular, strong remarks from representatives from Niger and Tunisia, amongst others, show the growing alliance coming together to confront this growing threat. The fact that developing nations are taking more of a lead shows the accelerated pervasiveness of climate security as a vital topic confronting the international community. This is evidenced by the substantial participation in the debate of Ireland and Niger, co-chairs of the Informal Expert Group on Climate & Security, a dedicated forum for Council members to discuss the operational challenges arising from climate-related security risks for UN missions and other operations.
This debate symbolized the growing recognition of climate change's involvement within conflict and will provide more impetus for the UN in general to institutionalize climate security within the UN's mandate and framework. This issue took on even greater importance given the COP26 (Conference of Parties) in Glasgow in November this year. COP26 is the next major institutionalised discussion on climate action and Britain's role in laying the groundwork to enhance greater action is vital to mainstreaming climate security as a part of overall human security.
Watch the full debate: 
Read our previous coverage of the UNSC debate on climate-security nexus "Climate as slow motion version of Corona? UN Security Council debate on climate-security"