On the 50th anniversary of Earth Day, 22 April 2020, an Arria formula meeting was organized by France using a video conference platform (Zoom) and broadcasting the debate live on Facebook. Several member states shared their insights on the security risks posed by climate change and stressed the link to the COVID-19 pandemic. Ambassador Nicolas de Rivière and member states acknowledged the long-term destructive impact of climate change, especially on vulnerable regions and economies which has been exacerbated by the outbreak of COVID-19. Briefers and several ambassadors urged the United Nations Security Council to strengthen its response to climate-related security threats through adopting a resolution on the generic role of climate change as a threat multiplier.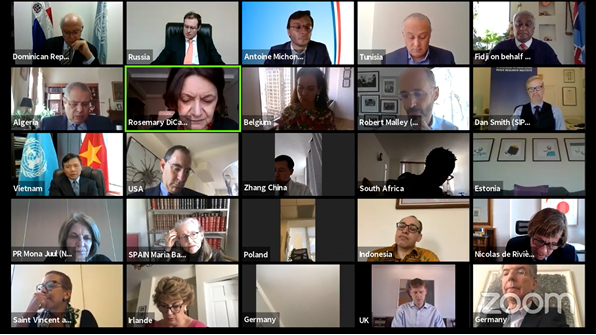 Members of the UNSC and regional representatives were briefed by Rosemary DiCarlo, United Nations Under-Secretary-General for Political and Peacebuilding Affairs (UNDPPA), Robert Malley president and CEO of International Crisis Group (ICG), and Dan Smith director of the Stockholm International Peace Research Institute (SIPRI).
''Climate security is about re-examining our underlining assumptions of prevention and sustaining peace. Understanding how climate change affects our mandates and working with partners to find innovative solutions'' says Rosemary DiCarlo
DiCarlo stresses that climate change has multiplied existing risks and aggravated factors that lead to insecurity. Examples of conflict over scarce natural resources can be seen in different regions with pre-existing fragilities. To create a better response, the Department of Political Peacebuilding Affairs (DPPA) launched a joint initiative with the UN Development Programme, and the UN Environmental Programmed called the Climate Security Mechanism with the aim to build capacity and strengthen partnerships. This joint initiative has developed guidance to promote systematic analysis of climate and security response. DiCarlo stressed the value of engaging women from affected communities in the Climate Security Mechanism to support the initiative with local capacities.  
''Without quick global collective action, climate change could well prove to be the slow-motion version of the coronavirus outbreak reshaping economic, political and security conditions around the world in negative ways'' says Robert Malley
Malley pinpoints the importance of not only determine the regions where climate change will hit hardest and who need the most support but also how politically equipped these regions are to cope with the after effect. To do so, he recommends analysing risks in close to real-time rather than over 10-year timeframes such as the IPCC. Malley also indicated that it's an overstatement to say there's no linear or unidirectional relationship between climate change and conflict. Small climate variations can have a substantial impact, while significant climate variations, in some circumstances, do not have any effect.
''Sometimes, climate change is the trigger for instability and even for conflict. Sometimes it is the final straw… that governments cannot respond to creatively and properly. Sometimes it is simply part of the background along with factors like economic weakness, social inequalities and weak or arbitrary governance in establishing the pre-conditions to instability and violent conflicts'' says Dan Smith
Smith, on the other hand, stresses that there are underlying factors that contribute to climate change-related conflicts. 8 out of the 10 countries hosting large peace operations are in areas that are highly exposed to the impact of climate change. Cases from Somalia, Lake Chad Basin, Central Asia and Iraq all establish a convincing picture of climate-related instabilities; however, it is highly context related. These regions have to withstand the double burden of ongoing conflict and changes in the climate. Therefore, extensive country research is necessary to understand the linkages better and develop contexts specific responses. 
Global perspectives and recommendations 
The impact of climate change on security has been recognised in specific country resolutions, for example, a resolution regarding Lake Chad and the peace mission in Somalia.  There has not been a resolution on the generic role of climate change as a threat multiplier. Although European and African ambassadors acknowledge the role of climate change in conflict, China and Russia express less urgency. Russia argues the UNSC should focus its limited time and resources on specific country issues, not on generic, disputed, links between climate change and security. Russia also urges the Council to avoid engaging in climate financing and other discussions that are better placed in the Economic and Social Council or the General Assembly. It was critical about climate-security assessments and adding single persons with climate expertise to UN Peace-keeping missions, since these would not be able to make a difference. Also, China pointed to the different views on climate security and asked to approach the issue case by case. Both countries question the mandate of the UNSC to address climate security and point out that other bodies, notably the UNFCCC, have a more logical link with their central mandate. Several other countries recommend the UNSC to develop its adaptation and mitigation effort to address climate security by appointing a Special Envoy on climate security and establishing a report by the Secretary-General to analyse emerging climate-related security risks and recommend preventive measures for each region of the world. The Climate Security Mechanism, a collaboration between DPPA, UNDP and UNEP, is currently at the lead of these efforts, and several countries asked to expand it.
Watch the Arria formula debate here.
Read PSI previous Arria Formula coverage here.
Photocredit: Norwegians mission to the UN's photostream/ Flickr