Climate change returned to the UN Security Council agenda on Friday 25th January, with over 80 member states – including a dozen Ministers – speaking at a full-day debate organised by the current Dominican Republic presidency.
Opening the meeting, UN Under-Secretary-General for Political Affairs Rosemary A. DiCarlo said, "The risks associated with climate-related disasters do not represent a scenario of some distant future. They are already a reality for millions of people around the globe – and they are not going away." [Full speech]
DiCarlio pointed to the direct threat posed by sea level rises and extreme weather events to Small Island Developing States (SIDS), as well as the effect of heightened competition for diminishing land, forage and water resources fuelling tensions in the Sahel and the Sudan.
Evidence was also presented by UNDP Under-Secretary-General and Administrator, Achim Steiner, who called for recognition of the scientific evidence and urgency of the risk, and investment in climate adaptation and risk reduction. "We are not keeping up with the challenge," he argued.
For the first time ever, a representative of the UN World Meteorlogical  Organisation (WMO) also gave evidence to the Council. Chief Scientist Pavel Kabat said, "Climate change has a multitude of security impacts - rolling back the gains in nutrition and access to food; heightening the risk of wildfires and exacerbating air quality challenges; increasing the potential for water conflict; leading to more internal displacement and migration." He said the WMO was ready to provide cutting-edge science and expert information to inform Council decisions.
A youth representative and researcher on environmental security at the Stimson Center, Lindsay Getschel, was also invited to speak. She called on Council Members to "live up to their words" and made three asks: a resolution officially recognising climate change as a threat to international security; a specific assessment of impacts on local youth; and a transition to 50% renewable energy in deployed UN missions by 2025.
Many member nations' representatives spoke strongly in favour of the Council's further attention to and action on the issue, including the Foreign Ministers of Germany and Belgium, Heiko Maas and Didier Reynders; Environment Secretary of Poland (and COP24 host) Michał Kurtyka; African Union representative Ipo Gbolie Wulfran of Côte d'Ivoire; UK Minister of State Tariq Ahmad [full speech]; and Deputy Permanent Representatives of France and the Netherlands Anne Gueguen and Lise Gregoire-van Haaren.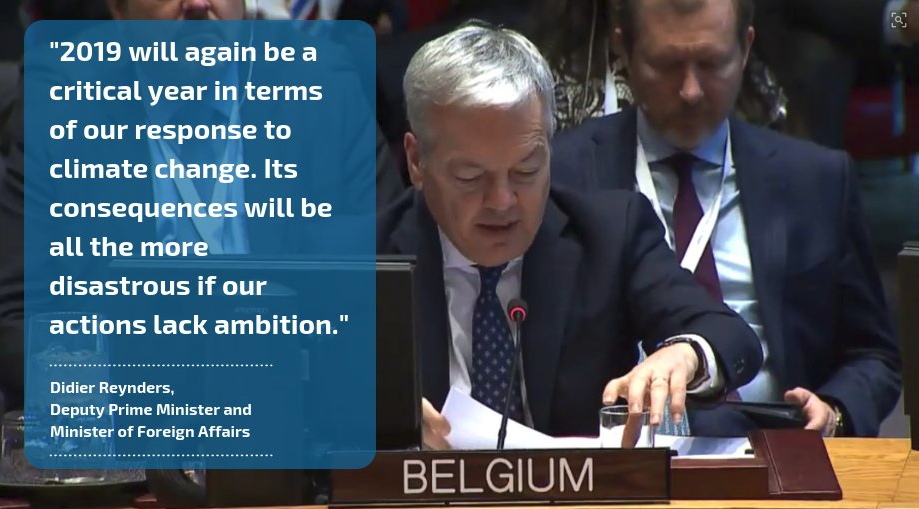 In particular, these members emphasised the need for climate-sensitive risk assessment, conflict analysis and early warning capacity, and better coordination with other UN bodies addressing climate change, calling for a UN 'clearing house' on these issues. Camilla Born, a climate security expert at think-tank E3G, said a new initiative of tools to assess and communicate climate risks could be "game changing" as quoted in Climate Home News.
Open objections however came from Russian Ambassador Vassily Nebenzia, who argued it is "superfluous and even counterproductive to examine the climate problem at the UN Security Council, whose principal task is to react rapidly to menaces to international peace and security." This is in line with the historic Russian position that other UN entities are better equipped to deal with the issue.
India's Permanent Representative Syed Akbaruddin argued that the generalised link between climate disaster and security remained "ambiguous" and that "thinking in security terms usually engenders overly militarised solutions to problems, which inherently require non-military responses to resolve. It brings the wrong actors to the table." US Ambassador John Cohen said the Council should play a role in disaster resilience, but did not refer to climate change in his speech.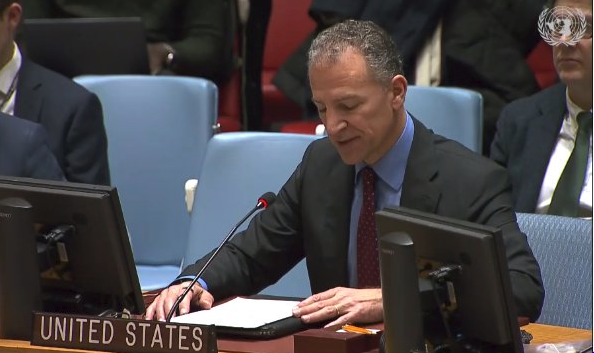 US Ambassador to the UN John Cohen addresses the UN Security Council
China's Permanent Representative Ma Zhaoxu said "climate change-induced natural disasters wreaked havoc in many parts of the world" leading to "disruptive factors undermining peace and stability". He called for "relevant UN agencies to properly address and respond to climate change-related issues in keeping with their respective functions and their division of labour," as reported by XinhuaNet. Indonesian Foreign Minister Retno Marsudi meanwhile argued that the Council "must consolidate efforts to respond to the impact of climate change, not climate change itself."
As the PSI reported last week, it is almost 12 years since the Council first considered the impact of climate change on peace and security, with pressure mounting in recent years for more substantive action. Baron Divavesi Waqa, President of Nauru, on behalf of the Pacific Small Island Developing States, repeated the call for a Special Representative on Climate and Security – the historic role of SIDS in driving this is detailed in the PSI's 'Fighting an existential threat' briefing published last year.
"Most important, for all of us," DiCarlo concluded, "is the recognition that deeds must follow words. Major armies and businesses have long recognized the need to prepare for climate-related risks, rightfully assessing climate change as a threat multiplier. We cannot lag behind."
The role of the UN Security Council in addressing the climate-security threat will also be addressed during several sessions of the Planetary Security Conference 2019. A Plan of Action for the Caribbean region, developed at the PSI regional consultation in Aruba in December 2018, will be presented and discussed inter alia at a workshop featuring Prime Minister H.E. Leona Marlin-Romeo of Sint Maarten. There will also be an interactive workshop on a new UN climate security institutional mechanism, convened by Malin Mobjörk of the Stockholm International Peace Research Institute (SIPRI) and Martin Ras of the UN Development Program (UNDP).