New research from the International Institute for Applied Systems Analysis (IIASA) in Austria and the University of East Anglia (UEA) claims to have established a definitive causal path from climate change to violent conflict and in turn migration. Academics from these institutions found that climatic conditions, by affecting drought severity and the likelihood of armed conflict, played a significant role as an explanatory factor for asylum seeking in the period 2011–2015.
The authors argue that until now there has been little empirical evidence defining the pathway of the relationship between climate and migration through conflict. Media headlines in recent years have increasingly speculated as to the role of climate change in increasing resource pressures and in turn triggering migration flows (particularly since the beginning of the Syrian conflict in 2011 and the resulting inward migration to Europe). However the complexity of migration processes and long-run climatic factors has left the chain of causality in the narrative of this and similar conflicts weak.
The new study in the journal Global Environmental Change analysed asylum application data  for 157 countries held by the United Nations High Commissioner for Human Rights (UNHCR), conflict data from the Uppsala Conflict Data Program (UCDP) and climate data using the Standardised Precipitation Evapotranspiration Index (SPEI). Econometric modelling then allowed for the identification of a specific link firstly from climate to conflict and then from conflict to asylum seeking flows.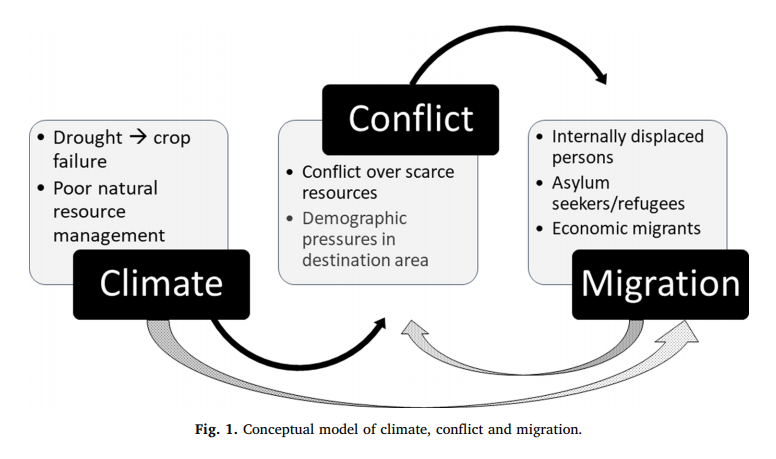 Source: "Climate, conflict and forced migration" in January 2019 issue of Global Environmental Change.
"The effect of climate on conflict occurrence is particularly relevant for countries in Western Asia in the period 2010–2012," said co-author Dr Muttarak UEA, "when many were undergoing political transformation during the so-called Arab Spring uprisings. This suggests that the impact of climate on conflict and asylum seeking flows is limited to specific time periods and contexts."
Co-author Jesus Crespo Cuaresma, of IIASA and Vienna University of Economics and Business, said: "Climate change will not cause conflict and subsequent asylum-seeking flows everywhere. But in a context of poor governance and a medium level of democracy, severe climate conditions can create conflict over scarce resources."
This echoes the conclusions of the 2018 Global Hunger Index in its recognition of the political failures involved in episodes of displacement and conflict, and calls to focus on root causes such as climate change and resource pressure.
The findings follow a return of climate-security to the UN Security Council agenda last Friday 25th January. A day-long debate lead by the Dominican Republic presidency saw over 80 member states and 15 ministers speak, most in favour of a stronger Council role in building analytical capacity and resilience to the security risks of climate-related threats.
The Planetary Security Conference will take place on 19th and 20th February 2019 under the theme #Doable, seeking to catalyse policy adjustment and action on the ground tackling security risks emanating from climate change and other environmental stresses.