On 19 June, 2019, the International Committee of the Red Cross (ICRC) and the Jordan Red Crescent Society (JRCS) co-hosted a policy roundtable on climate change, conflict and resilience in Amman Jordan, with organizational support by the Red Cross Red Crescent Climate Centre (RCClimate) and the Overseas Development Institute (ODI). After previous roundtables in Kenya, the Ivory Coast and The Netherlands, the event in Jordan was the fourth in a global series of seven roundtables. Subsequent events will be held in the Philippines, the United States and Geneva.
The event brought together local authorities in the Middle East, humanitarian and development partners, researchers and donors to discuss the impacts of climate-related security risks, vulnerabilities and possible action.Jurg Montani, head of the ICRC in Jordan stressed that communities in the Middle East are increasingly effected by climate change and that "sustainable humanitarian action" is necessary to increase resilience and boost adaptation efforts. He highlighted the central role of Jordan, physically and in terms of stakeholders, as a hub for humanitarian dialogue and policy debates.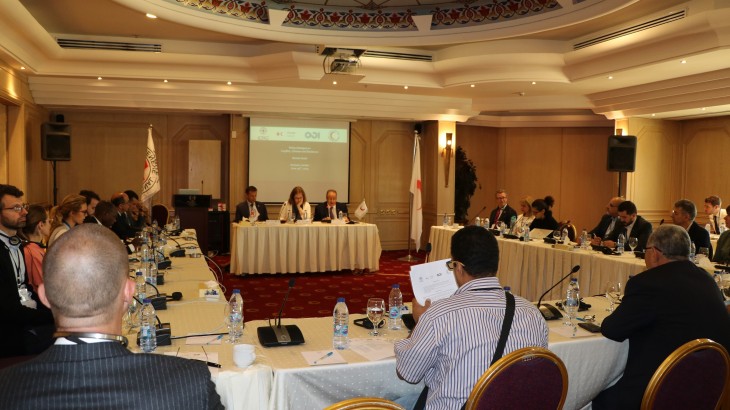 35 representatives came together in Amman to discuss the Climate Security Nexus (Photo: ICRC / Rafah Alhadidi)
A central point of discussion was double-vulnerability and the role of climate finance to support people, that are affected by climate and conflict, in adaptation and resilience building. According to Dr. Mohammed Al-Hadid, President of the JRCS, it should be a priority to governments to "secure enough finance to increase livelihoods, improve infrastructure and disaster risk management and strengthen compliance with international humanitarian law" through policies.
The Middle-East is broadly understood as a spotlight region due to its high vulnerability to climate change and consistent short and long term conflicts but also due to the positive impact of local representatives such as the participants of this roundtable. On 4 July the Clingendael Institute will host the regional directors of EcoPeace Middle East in a public event in DeBalie in Amsterdam to discuss the potential of environmental collaboration to circumvent conflict.