In recent years, Germany has increasingly directed its foreign policy focus toward the effects and risks of climate change. The 2021 elections marked a change, as the political party Alliance 90/The Greens secured five ministerial positions in the Scholz Cabinet. On their behalf, Annalena Baerbock assumed office as Minister of Foreign Affairs in December 2021. The new minister has been clear in acknowledging the interconnectedness of climate change with emerging security threats. In her speech at the Petersberg Climate Dialogue in May 2023, she called the climate crisis ''the biggest security challenge of our age for us all.''
PSI spoke with Christina Wegelein, Head of the Climate Security Division of the German Federal Foreign Office. The Division was founded in March 2022 and aims to address the impacts of climate change as an international security challenge. Its focus is on the political impacts and risks of climate change internationally. Before her current posting, Christina Wegelein has previously been posted with German Embassies in Dakar and Warsaw. She was part of the German delegation to the UNFCCC from 2011-2016.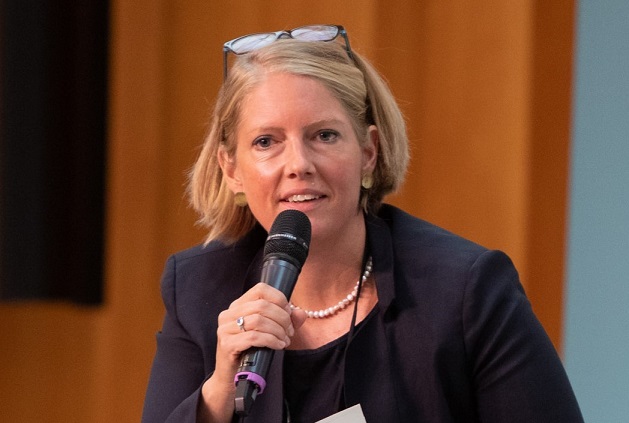 What is currently on the agenda of the Climate Security Division?
Foreign Minister Baerbock has said repeatedly that climate change is the security challenge of our century, not "just" an environmental one. The German Ministry of Foreign Affairs is looking to expand the definition of security to include a climate perspective. Security has to be robust, resilient and sustainable. Our National Security Strategy (published in June 2023), also includes these perspectives.
We want to mobilize more political actors for climate ambition. Our division aims to bring very different actors together to find integrated approaches to address peace and security policies, climate policies, and climate adaptation. That includes Ministries of the Environment, but also Foreign Ministries, the Security and Defence community to address this challenge together and to make a strong argument for more ambitious climate policies.
This work is a lot about information management and coordination between different entities and stakeholders. The Berlin Climate and Security Conference took place on the 6th of October. This event serves as a forum, which connects policymakers, decision-makers, and experts from various policy areas.
The German National Security Strategy recognizes climate change as a security threat. How does this affect the priorities and responsibilities of your division?
The National Security Strategy does not only build on the three dimensions of security that I mentioned earlier (robustness, resilience, and sustainability). It also gives us very concrete tasks, which concern adaptation and resilience in sectors such as the water sector. One example is the assignment to have a National Intelligence Estimate on the concrete security threats for our country that stem from the climate crisis.
How will you mainstream and implement the climate security perspective in the national defence, climate, and foreign policies?
A precondition for successful integration is bringing entities and actors together. A very concrete example of this organizational structure: our ministry. Our unit is part of DG Climate Foreign Policy and Geoeconomy. Other DGs work on foresight and forecasts, yet another on peace and security. We have to overcome such departmentalization and think beyond known patterns: The climate and security team of the Ministry of Foreign Affairs works closely with all these colleagues. We even have one team member anchored in two departments at the same time. This may sound like a small step, but really, human beings and structures can make a big difference in ensuring the transfer of knowledge and fostering integrated action.
Such reforms and re-thinking must take place on all levels: In the EU, we actively support both the Climate & Security integrated approach and the climate & defence roadmap. NATO members have founded a Centre of Excellence on Climate and Security to enhance the climate and security nexus within its structures and among the allies. These are concrete processes where actors and objectives can be aligned for better results and enormous synergies.
Our objective is to have climate security risk-informed peace and resilience as well as conflict sensitive, ideally peace positive, climate mitigation and adaptation policies.
Do you face any challenges in getting different actors to cooperate?
Things have changed a lot since I first worked on climate policy, between 2010-2016. Back then, the relevance of climate impacts was acknowledged by foreign ministries, but it was not a priority beyond the ministers of the environment.
Today, literally every government entity has climate change on the agenda. Things have changed a lot. I think this is mainly due to climate change's undeniability and urgency. Devastating climate impacts are visible in all parts of the world. The climate crisis affects our security, both nationally and internationally. Furthermore, the shift is also thanks to the current German government and Minister Baerbock, for whom the subject has highest priority.
However, I cannot say there are no obstacles. Cooperation and coordination make processes complex and lengthy, seemingly inefficient. Both government and non-state actors want visibility for their work. The same is true for international organizations. I think that reluctance can be overcome if we could double the effect and visibility of the combined efforts. If political or institutional processes impede the most efficient solutions, we need to get better to prove: It's worth it.
Which specific risks or vulnerabilities does climate change pose to German national security?
Climate risks have several layers: There is a concrete risk to human security from increasing floods and heatwaves even here in northern Europe. There is the risk of rising geopolitical tensions that would affect our national security: This is due to ever-scarcer resources, climate induced displacement but also based on climate solutions and the energy transition, that can cause new competition e.g., for resources and/or new environmental risks of their extraction.
Thirdly, there is a military risk in terms of preparedness and capabilities: Just as fossil fuel dependency makes our armies vulnerable to attacks, climate impacts create new challenges for our navy bases, that get flooded and tanks that become overheated or get stuck.
What is the German military currently doing to adapt?
Adaptation is one part, the other is to reduce their own footprint. A very relevant ongoing process is the EU Strategic Compass: This document tasks all member states to present national climate strategies. The process includes climate risk assessments, adaptation such as capacity building, training, and procurement.
NATO, too, has adopted an ambitious Climate Change and Security Action Plan to mainstream climate change considerations into NATO's political and military agenda.
NATO's 2022 Strategic Concept highlights climate change as a defining challenge of our time, with a profound impact on Allied security. It states that NATO should become the leading international organisation when it comes to understanding and adapting to the impact of climate change on security.
With support from the German Ministries of Defence and Foreign Affairs, Allies have established the above-mentioned NATO Centre of Excellence for Climate Change and Security in Montreal.
Looking forward, what are the key priorities in your division's initiatives for the coming years in tackling these climate-related security challenges, both domestically and globally?
If all peace actors were integrating climate risks in their planning and all climate actions were peace-responsive, a great part of our work would be obsolete. Facilitating this process is one of our priorities. We are working with UN agencies and funds to incorporate climate action into peace building and humanitarian work. We are working with IOM and UNHCR to better address climate induced migration. At the same time, our colleagues working on climate finance, the Green Climate Fund, Adaptation Fund and on the implementation of the COP27 Loss and Damage Finance Decision focus on better access for most vulnerable and fragile groups and communities, including women.
Another priority of ours is to raise awareness on climate security risks among the security and defence community. If ministers of defence, generals and soldiers were to speak up about the dramatic consequences the climate crisis has on human lives, security, and military effectiveness they could strengthen the call for urgent and ambitious climate action. All stakeholders need to understand that without climate protection, there is not going to be peace. And sadly, the devastating and unlawful war against Ukraine is yet another proof - without peace we will never have effective climate protection.
Photo credit: Unsplash/ Joshua Fuller (Banner) & German Federal Foreign Office (In text photo of Christina Wegelein)